SSOE and Goodyear Recognize Seven Million Safe Working Hours On-site at Largest Manufacturing Project Under Construction in China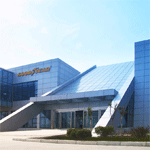 Shanghai, China, September 29, 2011 – SSOE Group (www.ssoe.com) the EPCM firm of record, along with their client The Goodyear Tire & Rubber Company, announced today that they have successfully reached seven million hours worked with no recordable incidents at Goodyear's newest tire plant in China. This plant, which currently produces passenger tires and soon will produce truck tires, is the largest manufacturing project under construction in China.
The nearly $500 million USD facility, located in Puladian, China, consists of multiple buildings situated on a 195 acre site. SSOE is providing full engineering, procurement, construction management (EPCM) services for the project which included site improvement services consisting of the transformation of 417,000 sq. meters of land and the construction of several buildings for manufacturing, utilities, and warehousing which total 236,000 sq. meters.
Andrew Kwok, General Manager of SSOE's Asia Operations, said this milestone is a noteworthy accomplishment. "Safety is an integral part of the cultural mindset at Goodyear and SSOE," Kwok said. "The achievement of this milestone is an indication of our commitment to work hard to protect the well-being of each person working on the site."
Another recent accomplishment on this project was the recognition by Goodyear of SSOE employee Bruce Li for outstanding work in managing the punch list effort. Bruce was the only recipient to receive the "Recognition of Achievement Award" among all of the construction teams on-site.
About SSOE Group
As a Top 10 Engineering / Architecture firm for the past 5 years, SSOE Group focuses on delivering Great Client Service to clients through a full range of project delivery solutions. They have been named a "Great Workplace" (Great Place to Work®) and one of the "Best AEC Firms to Work For" (Building Design + Construction).
With more than 20 offices around the world, SSOE is known for making its clients successful by saving them time, trouble, and money. Over the company's 65+ year history, it has earned a reputation for providing quality project solutions to semiconductor, automotive, food, chemical, glass, manufacturing, healthcare, power, and general building industries—with projects completed in 40 countries. Visit www.ssoe.com for additional information and career opportunities.
Media Contact:
Jenni Roder
(419) 469-1918
(419) 351-6480 cell
jroder@ssoe.com
You can follow any responses to this entry through the RSS feed. Responses are currently closed, but you can trackback from your own site.