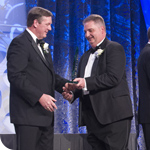 Volkswagen and SSOE Group Proud Recipients of ACEC Engineering Excellence Grand Award for World's First LEED® Platinum Automotive Manufacturing Plant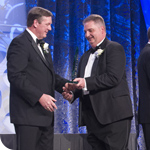 Toledo, Ohio, May 31, 2013 – SSOE Group (www.ssoe.com), a global engineering, procurement, and construction management (EPCM) firm along with their client Volkswagen Group of America is proud to announce that it has received one of eight Grand Awards for Engineering Excellence at the 47th Annual Engineering Excellence Awards—a national juried competition sponsored by the American Council of Engineering Companies (ACEC). The award, presented in honor of the new Volkswagen Assembly Plant in Chattanooga, Tennessee, was presented to SSOE and Volkswagen representatives at an award gala in Washington D.C. on April 23, 2013.
A distinguished panel of 25-30 judges representing industry, government, academia, and media gather for three days each year to critique and rank the submissions for engineering excellence. Projects throughout the world are rated on the basis of uniqueness and innovative applications; future value to the engineering profession; perception by the public; social, economic, and sustainable development considerations; complexity; and successful fulfillment of client/owner's needs, including schedule and budget. The panel then selects 24 top award winners—16 Honor Awards and 8 Grand Awards.
In 2008, Volkswagen Group of America (VW) made a commitment to establish a manufacturing presence in North America. Volkswagen also assumed special responsibility for the environment and vowed to become an environmental steward. Their commitment to the environment was addressed at every level of the project, from design through construction, and was successfully implemented with the help of SSOE. Volkswagen called upon SSOE to perform the architecture (including interior design), engineering (mechanical, electrical, structural, civil), and construction management (CM) for this $1 billion+ production facility which produces the Passat. SSOE also performed the role of Project Team Administrator (PTA) and Design Lead for all LEED credits.
This facility became the first and only LEED® Platinum automotive manufacturing plant in the world, the first LEED platinum industrial campus in the U.S., and the largest platinum project in the U.S. (based on building area). The Platinum certification is the highest designation possible from the U.S. Green Building Council's (USGBC) Leadership in Energy and Environmental Design (LEED) green building certification program.
The VW Assembly Plant was built on a 1,350-acre brownfield site and includes conventional steel framed buildings with concrete columns, steel floor / roof structures, metal wall panels, and a single-ply membrane roof. The plant has a planned capacity for  150,000 U.S. Passat vehicles annually. The primary manufacturing operations include weld, paint, and assembly. Other facilities on this site include outbound logistics, an
extensive training center, media (utility) center, office with full service kitchen, technical center, tank farm, arrival building, recycling center, fitness center, health center, and a fire station.
Throughout the project, SSOE utilized many innovative methods to reduce environmental impact which ultimately supported the Platinum certification. This building, as designed, will be able to save 42% of energy consumed from both the manufacturing process and building facilities. The facility also uses rain water to reduce water usage by 653,000 gallons per year. In addition, a white roof with a high albedo was utilized throughout all buildings in order to minimize the heat island effect. SSOE used roller compacted concrete in lieu of asphalt in many areas which also serves to minimize the heat island effect. The air handling equipment on the project was designed using heat recovery wheels which allow the reuse of heat energy prior to releasing it to the atmosphere. Extensive use of skylights ensured natural lighting throughout which reduces the energy demand from light fixtures while LED lighting was used for the exterior which uses 68% less energy than its predecessors. In addition, this project was completed ahead of schedule and on-budget.
For more information on ACEC's Annual Engineering Excellence Awards and project winners visit: http://www.acec.org/getinvolved/eea.cfm
For more information about the VW Chattanooga project, including videos and an online photo gallery, visit: www.ssoe.com/platinum
https://www.ssoe.com/wp-content/uploads/2013/06/150x150_SSOE_acec-engineering-excellence-grand-award-for-worlds-first-LEED-platinum-automotive-manufacturing-plant.png
150
150
hitch
http://www.ssoe.com/wp-content/uploads/SSOE-1805-Reg-2.svg
hitch
2013-06-03 10:00:12
2018-07-11 16:57:29
Volkswagen and SSOE Group Proud Recipients of ACEC Engineering Excellence Grand Award for World's First LEED® Platinum Automotive Manufacturing Plant