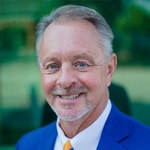 Trends in Educational Design
(Article posted on Jan. 31, 2019 on midlandsbiz)
We love the idea of designing schools that foster learning and collaboration. Timothy D. Williams, AIA, from SSOE, has more than 30 years of experience managing teams for K-12 facilities, hospitals, churches, hotels, corporate and retail facilities, restaurants, and municipal, county and industrial buildings. Tim is a graduate of Clemson University's School of Architecture where he received both his Bachelor of Arts in Design and a Master of Architecture.
MidlandsBiz:
What are the current trends you're seeing in Pre-K-12 (PK-12) school design and construction?
Tim Williams:
One of the current trends we are seeing in the design of PK-12 facilities is the flexibility and adaptability of learning spaces to meet the current and future needs of students. This, by far, has become one of the most important trends in school design.
Why? Well, learning spaces are no longer teacher-centric. They must be student-oriented and encourage collaboration while accommodating groups of all sizes. The furniture used in classrooms, for example, must also be flexible to meet these needs. The transparency and connectivity of spaces has eliminated the traditional corridors and rows of seating in classrooms. We are seeing more flexible seating options, as opposed to traditional lecture-based seating. The addition of makerspaces and areas where students gather to make and create have become an important part of 21st century schools.
Each classroom must also be built to accommodate both current and future technology. Technology changes rapidly in PK-12 so the integration of flexible data and power outlets and applications that can function on any platform is imperative.
One of the biggest changes we are seeing right now has to do with the concept that every student goes to college. For the most part, this concept is becoming somewhat obsolete. The development of more career and technology education centers (i.e. C.A.T.E./C.A.S. Centers) that provide programs for students who might be looking to begin their careers right after graduating are becoming more prevalent.
MidlandsBiz:
How has the design structure changed in PK-12 schools over the last five years? Can you provide some specific examples?
Tim Williams:
The process for designing PK-12 schools has completely changed. In the past, schools were designed to fit instructor-centric learning concepts with very little flexibility. This is no longer the case.
Today, school leadership researches and works with the design team at SSOE to create an educational environment that works within the prescribed pedagogy. In other words, we are designing the buildings to be consistent with how the school district wants to teach.
At Richland School District Two's Lake Carolina Upper Elementary School, for example, SSOE designed classrooms that allow teachers to be more conversational with groups of all sizes. The educational spaces at this school allow students to move freely through the classrooms and collaborative areas, which were designed to encourage interaction between classrooms and incite more hands-on group activities.
Additionally, school districts want buildings to be sustainable. SSOE makes this possible by incorporating green roofs, day lighting, solar energy, proper insulation, proper building envelopes and appropriate building orientation, which can cause energy costs to be substantially reduced. The addition of large-view windows into mechanical spaces and access to solar panels are also instrumental to show students how the building works and operates.
MidlandsBiz:
What are the challenges often associated with designing PK-12 schools? How have you worked around those challenges?
Tim Williams:
We often encounter challenges balancing security and transparency and also budget and programming. Schools' needs and programming often supersede the budget in the PK-12 industry. At SSOE | S&W we work diligently to match the budget with the program by designing schools that are straightforward and simple in addition to being easily constructed and maintained.
Security, especially now, is becoming another challenge. It can be difficult to make sure the campus and classrooms are secure without making the school look like a correctional facility. This encompasses everything from the type of fencing specified to the careful incorporation of windows. SSOE works through a security overlay during the design phases that outlines layers of security from the perimeter of the site down to each classroom. Our team extensively studies all of the ways an intruder might try to breach security measures within the design. Once this research is completed, the team makes the necessary changes to the design to prevent intruders from having visual and physical access to students. In the event an intruder breaches all security barriers, safe areas within classrooms are also incorporated into the design to provide both visual and physical security that will protect students and teachers, thereby adding an additional layer of security. Some of these spaces might include windowless workrooms, storage rooms and conference rooms that are accessible only to students and teachers.
MidlandsBiz:
How has SSOE work on PK-12 schools positively impacted Columbia?
Tim Williams:
SSOE has completed multiple schools throughout the Midlands for districts that include Richland One and Two, Lexington School Districts One and Two, School District Five of Lexington and Richland Counties, as well as additional districts throughout South Carolina and Georgia.
In South Carolina, we are currently working in Richland Two, Lexington Two, Charleston County, Jasper County, York 4, and Bamberg Two school districts. SSOE's overall goal is to work on culturally significant projects. I believe PK-12 is one of the most important areas of our work as it involves designing spaces that shape the minds of our children, who will then go out and become great leaders in the world. As a firm, SSOE cares about how design affects active, innovative learning environments and the people they serve. By focusing on the art of teaching during each design phase, we are constructing buildings that become great schools.
MidlandsBiz:
Is there one PK-12 school project in Columbia that illustrates your core principals and where design trends are heading?
Tim Williams:
One project that comes to mind is our revision of Richland School District Two's detailed program. We were able to design a new PK-5 elementary school that reflects the district's latest philosophy for instructional space in elementary schools. The Lake Carolina Upper Campus Elementary School was designed for an initial capacity of 800 students with an infrastructure and core functions capable of accommodating up to 1,200 students.
The main design objective was to facilitate collaboration and project-based learning by creating a variety of educational spaces. When SSOE met with the Richland School District Two staff to learn about their goals and objectives and to create a mission statement for them, what emerged was a design concept now known as the "Treehouse for Learning." This unique concept encompasses topics such as how to arrive at the school, how to emulate a sense of exploration, and how to stimulate imagination and encourage collaboration. Other aspects of the design requirements included: the blurring of indoor and outdoor spaces, visual transparency of spaces within the learning environment and the utilization of the building as a learning tool.
Timothy D. Williams, AIA: Tim is a performance and results oriented individual with more than 30 years of experience providing services in programming, master planning, design, construction documents, and construction administration. Tim's experience includes managing teams for K-12 facilities, hospitals, churches, hotels, corporate and retail facilities, restaurants, and municipal, county and industrial buildings. Tim is a graduate of Clemson University's School of Architecture where he received both his Bachelor of Arts in Design and a Master of Architecture.
https://www.ssoe.com/wp-content/uploads/tim-williams_150x150.jpg
150
150
Hannah Lee
http://www.ssoe.com/wp-content/uploads/SSOE-1805-Reg-2.svg
Hannah Lee
2019-01-30 15:17:49
2022-09-20 15:41:50
MidlandsBiz Q&A with Timothy Williams on PK-12 Design Trends