The Military Engineer Magazine Article: "The Next Dimension (4D)"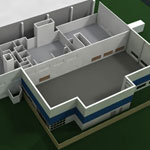 SSOE Group's Mike Duffey, PE, M.SAME, Vince DiPofi, PE, and David Semproch, AIA, NCARB, discuss how 4D building information modeling (BIM) could pay dividends for federal projects managers involved in larger undertakings such as U.S. military's current massive force relocations around the world.
Click here to read this article
You can follow any responses to this entry through the RSS feed. Both comments and pings are currently closed.
Tagged advanced-technologi, architecture-feature, Design Feature, design-technology-feature, Government Feature